Types of Porta Johns, Bathroom Trailers, Sink Units, & Job Trailers
Standard Portable Restroom Unit:
Our standard portable restroom units are made from durable plastic which enables us to keep the units very clean. The units are orange in color for easy site location.
All units are clean and feature hand sanitizing systems, vent screens (for ventilation and cooling), stand over urinal, and are supplied with toilet tissue.
Standard / construction site units are equipped for one (1) unit per ten (10) men, per ten (10) hours.
Deluxe Flushable Port-A-Jon Unit:
Our deluxe flushable portable restroom units are all self-contained and include a flushable toilet, self-contained sink with fresh running water, soap dispenser with liquid hand soap, paper towel dispenser with paper towels, and mirrors.
The deluxe flushable portable restroom unit is the ideal choice for special functions including outdoor wedding receptions, anniversaries, graduations, ceremonies, family gatherings, parties, cookouts, company outings, golf tournaments, sporting events, and much more.
Our deluxe flushable portable restroom units are white in color, and do not require an outside water source.
Restroom Trailor Unit:
Our restroom trailor units are completely self-contained and do not require any water hook-up; the only required hook-up is two electrical receptacles. Restroom trailor units feature hot & cold water, AM/FM stereo with CD player, and trailer skirting - fully loaded!
Female Accommodations:
4 flushing water stalls, 2 vanity sinks, built-in trash receptacles, glass mirrors, fluorescent lighting, 4 Rubbermaid sanitary receptacles, and skylight.
Male Accommodations:
2 flushing water stalls, 3 flushing urinals, 1 vanity sink, built-in trash receptacles, glass mirrors, fluorescent lighting, and skylight.
Handicap Accessible Port-A-Jon Unit: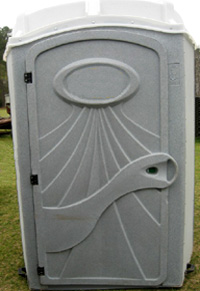 Our handicap accessible port-a-jon units are ADA (Americans with Disabilities Act) compliant.
Features include ground level entry, inside handicap railing for easy accessibility to seat deck, magnetic door that closes automatically, reinforced molded plastic construction, and adequate interior space for wheelchair to turn 360 degrees.
Our handicap accessible porta-johns are stocked with toilet paper, seat covers, and hand sanitizer units.
Handicap accessible porta-john unit colors are orange, green, and gray. Approximate dimensions are (7'-8' width) x 7'-8' (length) x (7'-8' height).
Fresh Water Sink Unit:
Available in two (2) or four (4) sink stations. Features hands free operation (operated using a foot pump), self-contained hand soap dispensers, and paper towels.
Hand Sanitizing Tree Unit:
Our portable hand sanitizing tree unit are perfect for all of your outdoor events. Hand sanitizing rental units feature soap dispensers, fresh water tanks with visual water levels, built-in lift handles, paper towel capacity, and much more!
Fresh Water Recovery System (Job Trailers):
Fresh water tanks have 100 gallon storage capacity, with pump. There is a 250 gallon slide unit under storage tank for fresh water.
Monthly rental and service contract available. We are also able to install these units.